Construction Information Services has released its Q1 Construction Activity Report for 2021, looking at pipeline levels and active construction on the island of Ireland. Managing Director Tom Moloney offers insight into the effects of the latest lockdown and what to expect next
A clearer picture of Ireland's construction industry post lockdown has begun to emerge – with some sectors bucking a downward trend. The construction sector in Ireland has suffered more that its UK and EU counterparts with a recent study showing the country had the EU's most stringent lockdown.
The last lockdown, which began on January 8, 2021 – where only work on essential projects were allowed to be carried out – finally ended on May 4 and the industry is now fully operational again. The impact of the industry shutdown is evident in the figures for the first quarter of 2021.
For Ireland, based on 12 months ending March 31, 2021 and compared with the same period to March 31, 2020, planning applications dropped seven per cent, decisions declined by eight per cent and commencements decreased 26 per cent.
Pipeline activity in the first quarter of this year for the Republic of Ireland (ROI) was less severely impacted in terms of planning applications and planning grants than was originally expected. Overall planning applications in ROI fell by 8.4 per cent in comparison to the average for 2020.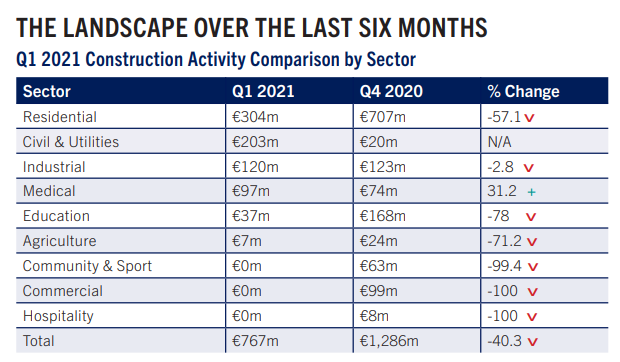 Applications relating to infrastructure, sport and leisure, education and the agricultural sectors bucked this trend with increased investment values in applications. Applications for residential projects fell by six per cent over the 2020 average but apartment development applications were up 54 per cent to €1.78billion in the Eastern and Midland regions.
The largest project was a large mixed-use development in Tallaght, Co. Dublin for 1,104 apartments. There was a 47 per cent fall in the value of non-residential applications in ROI from Q42020 with 1,598 applications representing €1.2billion investment.
Applications for sport and leisure facilities were up 207 per cent on the 2020 average and up 86 per cent for new school applications Commercial, hospitality and industrial applications were down 27 per cent, 42 per cent and 30 per cent respectively on 2020.
The largest project was for a €120million mix-use development at North Wall Quay in Dublin. Although ROI planning grants fell by 11 per cent over the previous quarter, the overall decline was only 2.9 per cent compared to the 2020 average and 5.9 per cent on the 2019 average. This is a better result than had been expected.
Job creation and future prospects In the residential sector, 225 projects representing a €2.24billion investment and 8,057 units gained approval. The largest project was a €625m mixed use development at Walkinstown Avenue, Naas Road, Dublin which will consist 1,137 apartments. Outside of residential, 989 projects were approved representing €1.43billion.
Warehousing, data centres, industrial and pharmaceutical all showed increases on 2020. A top project approved was for a €92million data centre development for Crag Digital/Echelon in Arklow, Co. Wicklow. The development will measure 50,000 square metres and will include three data centre buildings.
It's expected to create up to 400 jobs during its construction phase and is to commence in Q4 2021 for a period of 18 months. The overall investment in the data centre will be in the order of €500million.
Another top project approved was for a €119million data centre for Microsoft Ireland in Grange Castle, Dublin 22. The development will measure over 59,000 square metres and will include a four-storey central administration building, two data centres, a canteen and staff facilities.
The general consensus within the industry is that pipeline activity will bounce back quickly. The forecast is that the market will remain buoyant for the next few years due to the demand, particularly in the residential sector and as a result of the Irish Government's commitment on infrastructure and publicly funded projects.
Construction Information Services (CIS) provides comprehensive, researched, verified and real-time information on all building projects throughout Ireland – north and south. For more information call +353 1 2999 200 or email [email protected]