Carpenter Gary Dickson spent almost a decade building timber frame houses in the US before returning to Ireland just before the recession hit. What should have been the start of a new life with his family, soon took a tragic turn when a devastating accident almost cost him everything. It took five long, hard years of physical, mental and financial recovery but he is now back at work and part of the WuXi team at building and civil engineering firm PJ Hegarty since 2019. This is his story…
I left school when I was 16. I had good grades and could have continued onto college but I had been working on construction sites since I was 13 and wanted to be a carpenter. After my apprenticeship was complete, I went to San Francisco and spent eight years building timber frame houses and enjoying the Californian life.
In 2007 I got married and at the end of 2008 we decided to move back to Ireland to start our family. As luck would have it, we returned as the recession hit Ireland and for the first time in 14 years I found it difficult to get work. To make ends meet I took a position on my brother-in-law's fishing boat.
On July 11, 2011 I was doing maintenance work on the boat's hydraulic conveyor belt when my elbow hit the operation lever and turned the belt on. My right hand got caught and was crushed between the rollers, which started ripping it to shreds. I managed to turn the belt off with my left hand but my right hand was stuck in the machine. As there was nobody else around, I had no option but to turn the belt back on again in reverse.
My hand was crushed again, came free on the other side but was ripped in half. I grabbed a rag, wrapped my hand up and tightened a belt around my arm to stop the bleeding. I then got myself off the boat and someone phoned for an ambulance. On the way to hospital, I called my wife and left a voicemail saying goodbye to her and my son as I thought I was going to die.
The accident affected me physically, mentally and financially. I initially spent three months in hospital needing three operations to save my hand. Over the next five years I had a further nine operations. The tendons to my small, ring and middle finger had been ripped out and I had tendons removed from my left arm and both legs to reattach the fingers.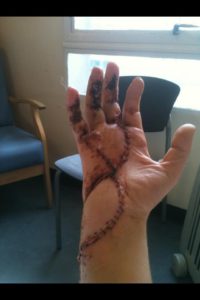 I also had three skin grafts taken from both my legs and a flesh graft taken from my right foot to rebuild my wrist. Around 90 per cent of the bones in my hand were broken or smashed. Initially the pain was the most difficult part, but the medication helped. The worry of how I was going to support my family became a huge stress. I was dependant on others for simple daily tasks.
I wasn't able to drive and I missed the interaction with my kids. It led me to the biggest challenge I ever faced mentally. Financially I relied on state benefits for the first time in my life to put food on the table and pay bills, which I found tough. After sitting in the hospital bed for two months with the realisation that I couldn't work as a carpenter again, I decided to enroll onto a Construction Engineering and Management degree course.
I had a great support network of family and friends that I could rely on and I still had sessions with a trauma counsellor for over a year, which helped. Two months after finishing my degree I was told that I didn't need any further operations on my hand. I returned to work the next week, which was five years after my accident.
My right hand isn't the same as it was and I have limited use for certain tasks but it hasn't stopped me from pursuing a career in construction management. I have three kids now and only my oldest child remembers daddy not working. I no longer need state benefits to put food on the table or pay the bills. The best advice I would give to anyone in my position is to talk to someone.
It's engrained in most Irish men to keep their feelings buried and not to let anyone see that they are struggling. It really does help having a chat with someone whether that's a professional, a stranger, family or a friend. Keep yourself busy, enrolling for the degree played a major part in my recovery.
When I was doing assignments or studying I was less likely to be overthinking my injury or feeling sorry for myself. Take it one day at a time, there is light at the end of the tunnel. It's hard to see that when you first get injured or start to struggle mentally but it gets easier. You adapt, you make adjustments. It takes time, but it does happen.