When Tara Flynn's parents started a family building business in the 1970s, you could say it set her on a predestined path in the industry. Though her successful place today as one of its leading voices is likely down more to her hard work and determination in what is typically a male-dominated arena.
The Roscommon woman has recently been sworn in as the new President – and second female to take the top leadership role – of The Master Builders' and Contractors' Association (MBCA). "Being nominated to be the President for the MBCA, it's huge," she says. "The first thing that stood out in my career was being the first female chair of the CIF's Western Region. That was amazing and such a proud moment.
"A few years ago I was truly honoured to be invited onto the board as there was a lot of bigger companies sitting around that table. Now, being up there as President for the MBCA … I'm very humbled and proud."
Born the oldest of six in the family – two girls and four boys – construction was to the fore when Flynn was growing up. Her first foray into the industry was working for her father, the late Paul Flynn Senior, in the office.
It was, she says, under his steady guidance and leadership that she fully grasped the role and was put firmly on the road to where she is today some 25 years later. "I love the job, I love construction," she says. "It's so much more than a hard hat and mucky boots, which is what women can perceive it to be and that's what we are trying to change."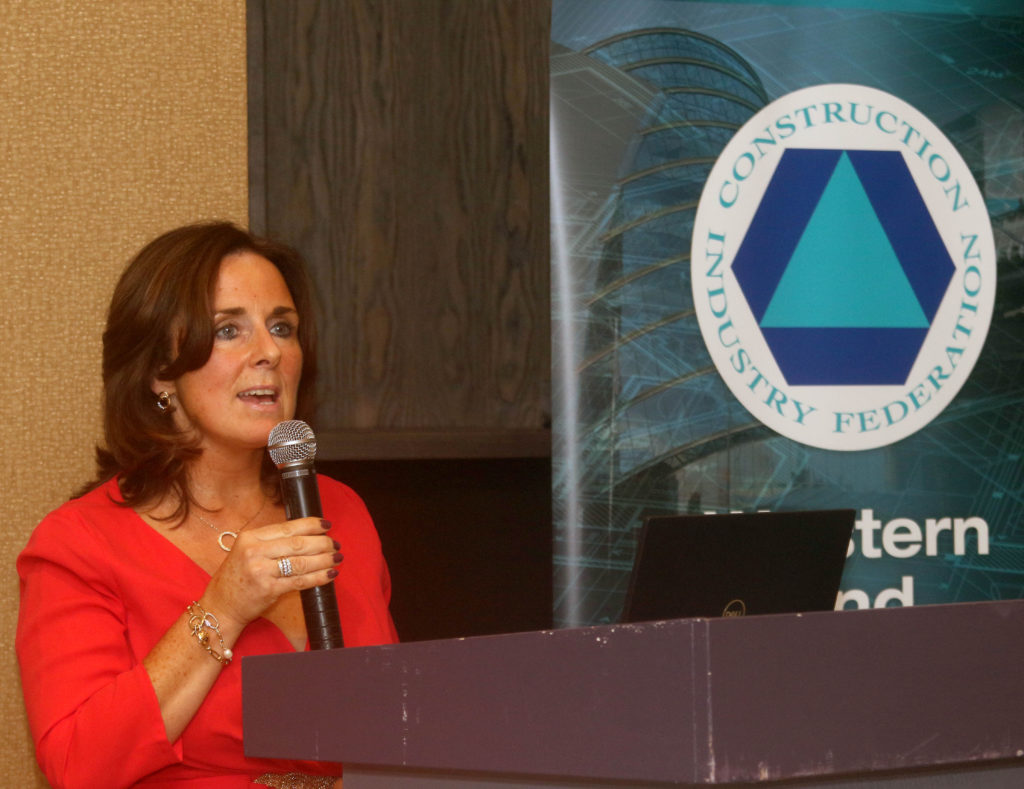 Building on a legacy
Established in 1979, and with an emphasis on teamwork and togetherness, over the past 40 years Galway-based Paul Flynn Construction has grown into one of Ireland's leading construction companies. Starting out mainly in residential, it now has a solid reputation as a management company working across commercial, retail, industrial, education and heritage projects with a vast network of sub-contractors.
Sadly for the Flynn family, they lost Paul Senior in recent months, though his legacy of honesty and hard work lives on in his children who have all gone on to work in construction in one way or another. "He was huge part of the business and our lives," Tara says. "That's where we got our best teaching and guidance. He really instilled core values into the business and the company and we want to continue that. He's given us the encouragement to drive on and we'll continue to do that.
"Daddy worked extremely hard. He loved his work from the minute he got up in the morning to the time he came home," she adds, describing her father as a quiet and unassuming man who was always there when you needed him. Honesty was another thing. He was so honest to the core. I hope we will always continue to have those traits."
Paul Flynn Construction have been proud sponsors of local Roscommon Senior GAA club Padraig Pearses since 1999. Last October, the team won the County Championship Senior title – a day of mixed emotions for the Flynn family in the wake of Paul Senior's passing.
"It was very poignant," Tara says. "After the match, the team and management on route back to the club house stopped off outside Daddy's house – they held him in such high esteem. They all got out of the cars with the cup and clapped in honour of our father. I said to my brother, if our father was here he'd be hiding at the back room," she joked. "He never wanted any recognition. He did it for the love of GAA."
Changing perceptions
Flynn likens her early years in business to being thrown in the deep end, learning along the way how to get work done. "When I started off my career it was as a legal executive," she says. "I didn't know anything about construction. I started by learning how to do the accounts, payroll and then gradually moving on to tendering, prequalifications, dealing with architects and QSs, then getting out there."
It was her father Paul who first encouraged her to attend Construction Industry Federation (CIF) meetings as a way to embrace the industry further. That gentle nudge, she says in hindsight, was a very good turning point both personally and for the company.
"When you're out in that environment you get to meet a lot of different people," she says. "Down through the years I've meet some fantastic mentors and leaders. Being a sibling of six with four brothers and having a dad within construction, that was a help to me. I'll always remember my first meeting around a boardroom table with 20 men. But I've never felt inferior going into a room like that or was never made to feel uncomfortable."
Leading the way
Now in her fourth year as CIF Western Region Chair, Flynn is feeling positive about the work that's being done to highlight construction in the region.
"We have an amazing director down here, Justin Molloy, and we work very well together," she says. Between that and her new role as MBCA President, she hopes to encourage more people into the industry, both male and female, and wants to highlight and promote construction as a modern industry offering many and varied opportunities.
A speaker at the CIF's Building Equality event on International Women's Day last March followed by a presentation at the Guaranteed Irish Annual Construction Forum are just some of the ways Flynn is helping to promote her industry.
She is also supporting the CIOB's Construction Manager of the Year Ireland Awards 2022 – celebrating excellence and professionalism. The winners will be announced at a ceremony in Croke Park Stadium on March 31.
"Events like these are where you get to promote our industry to the next generation of people, who we need to help it grow and develop," she says. Flynn is also full of praise for the CIF's careers campaign, which includes working with professional bodies as well as a design and build competition for second level schools.
"I've of the opinion that we need to also get into primary schools," she says. "It's going to be a long road to change perception, particularly for the girls. That's why, when I'm asked to speak at these events, I do."
Tara Flynn is a force for change in an everchanging construction industry. Her date with destiny looks to be well and truly on its way.