If Wexford County Council's idea is to build its way out of the coronavirus crisis, it isn't doing things by halves. From the €120million Trinity Wharf urban regeneration project in Wexford Town to a Rosslare Port which may even turn into a staging ground for offshore wind turbines, the sunny south-east is buzzing with building.
Trinity Wharf
Today Trinity Wharf is a 5.5-hectare brownfield site, at the south end of Wexford Town. But soon it will boast a six-story hotel, a cultural and events building, a five-story residential building with 58 units, three five-story office buildings, a six-story car park, and a 64-berth marina, too. In a visit to Wexford on September 3, Housing Minister Darragh O'Brien announced Trinity Wharf would be home to the new Maritime Area Regulatory Authority (MARA), too.
The new body, with a staff of upwards of 200, will have enforcement powers over compliance with planning laws for developments in marine areas. This comes as 27 offshore wind farms are planned for Irish coastal waters. Ireland's climate action plan calls for eight gigawatts of onshore wind production, and five gigawatts offshore.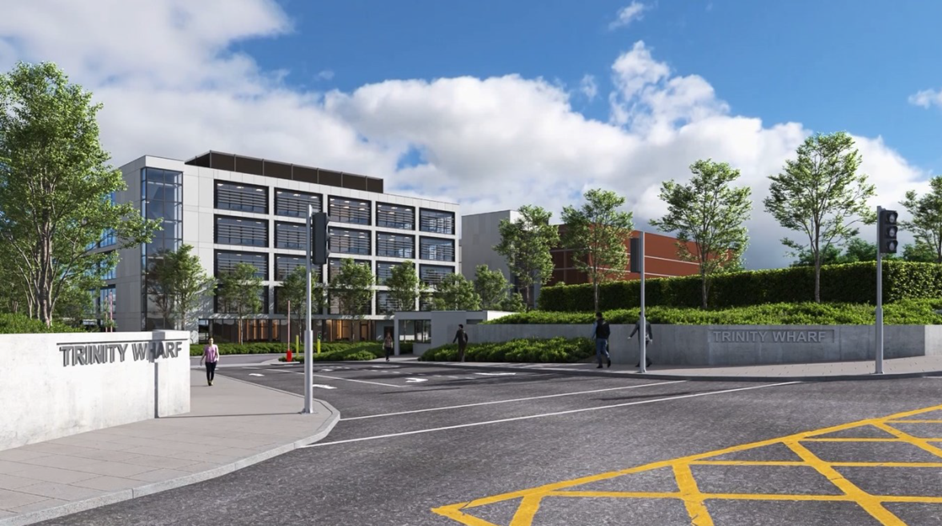 "Seriously impressive plans for Trinity Wharf in Wexford Town," O'Brien tweeted that afternoon. His department is providing €18.5million in funding from the Urban Regeneration and Development Fund. The URDF part-funds projects to enhance urban areas and make them more attractive places to live, work, visit, and invest.
Altogether there is €24million of public investment in the project, and private investment which takes the total to €120million. Tom Enright, Chief Executive of Wexford County Council, calls the Trinity Wharf project "one of the most significant milestones in the history of Wexford's economic development". The project received full planning permission in April 2020.
The access road construction project tender is expected to be awarded in the next few weeks, with tenders also being prepared for the construction of other elements of the project.
Rosslare Port
Elsewhere in the county, Rosslare's Europort is booming. In the brave new world after Brexit, Rosslare will be "one of the key trading hubs between Ireland and our European neighbours for decades to come," says Justice Minister James Browne, who is a Wexford TD. The Office of Public Works has lodged a planning application for a new multi-million investment in facilities, including a new Terminal 7 and Border Control Post with a total floor area of 10,645 square metres.
The council is also advancing the design of a €15million harbour access road from the N25 into the port, which is expected to get under construction in the next 18 months.
The latest traffic report from the Irish Maritime Development Office shows roll-on/roll-off trade between Ireland and Britain collapsed by about a third in the first half of 2021, compared to the same period in 2019.
Traffic between Ireland and Britain makes up two-thirds of Irish freight volumes, down from 84 per cent two years ago. Instead, the share of RoRo traffic heading to European ports has doubled compared with 2019. In Rosslare, EU traffic rose by 20,000 units from the second quarter of 2019 to the same period in 2021. With Brexit providing hot air enough, many believe Rosslare is ideally suited for
offshore wind, too.
While on Ireland's west coast installations would need to use floating wind turbines, in the shallower waters off the east and southeast coast they could be fixed to the seabed. The Irish Wind Energy Association as assessed that no port in Ireland is currently set up to be a construction staging port for fixed bed offshore wind turbines.
So there is potential for Rosslare Port to become precisely such a staging port. Rosslare is the best-positioned port to be Ireland's offshore wind energy hub in the future, says its general manager Glenn Carr.
Greenways on the go
Greenways trails built for the exclusive use of cyclists, pedestrians and other nonmotorised transport have lately become a
focus of county councils across Ireland. Wexford County Council is advancing a number of greenway projects. Work is ongoing on a €19million New Ross to Waterford greenway, which is due to be completed in 2023.
And a 15-17 kilometre greenway from Wexford Town to Rosslare Strand is at route selection stage. There is also a proposed blueway trails following the River Barrow from New Ross to St Mullins. A greenway from Rosslare Harbour to Rosslare Strand and then to Waterford, along the route of the disused Wexford to Waterford rail line, is ready to go to planning but has for the moment been shelved as Transport Minister Eamon Ryan has called for a review of all rail infrastructure, which holds out the possibility of reopening some disused rail lines.
Another route, which would have linked thecentre of Wexford Town with the amenity areas at Curracloe Beach and the Raven, was rejected by An Bord Pleanála. The National Parks and Wildlife Service raised concerns about the impact on local wildlife.
Enniscorthy to tender
A £50million Enniscorthy flood relief scheme, formally called the River Slaney (Enniscorthy) Drainage Scheme, will go shortly to tender, hopes Wexford County Council. This project involves demolishing a bridge across the River Slaney built in the 1990s, and instead building a different bridge at a higher level downstream. Meanwhile Wexford's second-largest town will see a €10million town centre improvement, transforming the area around the castle, removing buildings including an old nightclub, and restoring the castle's gardens.
The scheme also will see a single drop-off area for tourists below the castle, and a lift up to the castle level, says Tom Enright. Meanwhile a 50,000 square foot office building under construction in the council's new Enniscorthy Technology Park will be Ireland's first passive office, requiring little energy for heating or cooling. This will be completed in the second quarter of next year. It is hoped that the park will also feature a UN Centre of Excellence for NZEB (Nearly Zero Energy Buildings), too.
Other developments
If this isn't enough to keep busy with, Wexford also is ploughing ahead with a Technological University of the South East (TUSE). The council is keen to have a significant campus in Wexford town where a 55-acre site has been identified as a possible location. Tara Studios has plans to develop a €50million film studio at Borleagh Manor, with seven studios, 10 workshops, and two office buildings, which is currently pending appeal with An Bord Planeála.
An Ardcavan man filed an objection, arguing he could not find evidence that traffic, flood risk, or archaeological assessments had beecarried out. There are also plans for a number of hotels in the county. In relation to tourism infrastructure, a €6million upgrade of the National Heritage Park outside Wexford Town, works on the Hook Lighthouse, and a major new tourist centre in New Ross also are all at the planning stage.
The council is also investing in public amenities. A new 18 acre 'Min Ryan' public park was opened in Wexford Town last year and Gorey Town Park has just undergone a €2.5million upgrade. Construction work on a new town park at the High Hill in New Ross is well underway and a major €2.5million upgrade and extension of Wexford Arts Centre under construction. The council expects that over 200 new social housing units will be completed in 2021 with a further almost 500 new units planned for next year.
The availability of capacity of the construction sector to deliver this increase will be key. Wexford County Council officials and councillors believe that by investing public money in infrastructure, they can encourage private investment to follow. This has already happened at the M11 Business Park in Gorey and at the new Technology Park in Enniscorthy. The Council's Economic and Community Development programme, commenced a few years ago is now seeing projects coming to fruition – with more to come.
From the gentle purr of activity around the model county, from Trinity Wharf to Rosslare Harbour and Enniscorthy, you wouldn't want to argue they're not on to something.
Are you a regional contractor or CIF member company working in the construction industry? If so, we want to hear your story. Contact us, see details below.