Project: Royal Victoria Eye and Ear Hospital – Refurbishment to Emergency Department and Radiology Unit
Location: Adelaide Road, Dublin 2
Sector: Medical

Main Contractor: MJ Clarke & Sons Ltd
Quantity Surveyor: Michael Nolan
Project Director: John Clarke

Sub-Contractors: L Redmond Electrical, PJ Duffy Mechanical, Boyne Park Interiors, John Lynch Flooring, KCC Doors, Winco, Breffni Mechanical, Jade Metal, Groundform, Skyway, Flamestop, Martin Tucker Decorators

Project Manager: Denis Crowley (IPML)
Architect: Reddy Architecture + Urbanism
Project Manager: Interactive Project Managers Limited

C&S Engineer: O'Connor Sutton Cronin
M&E Engineer: JV Tierney

Fire Consultant: McCartney Smyth
Quantity Surveyor: Deasy Walley Partnership
Health & Safety: DCON Safety Consultants

Cost: €1.4million
Start Date: April 2021
Completion Date: August 2021

Health & Safety: Accident Free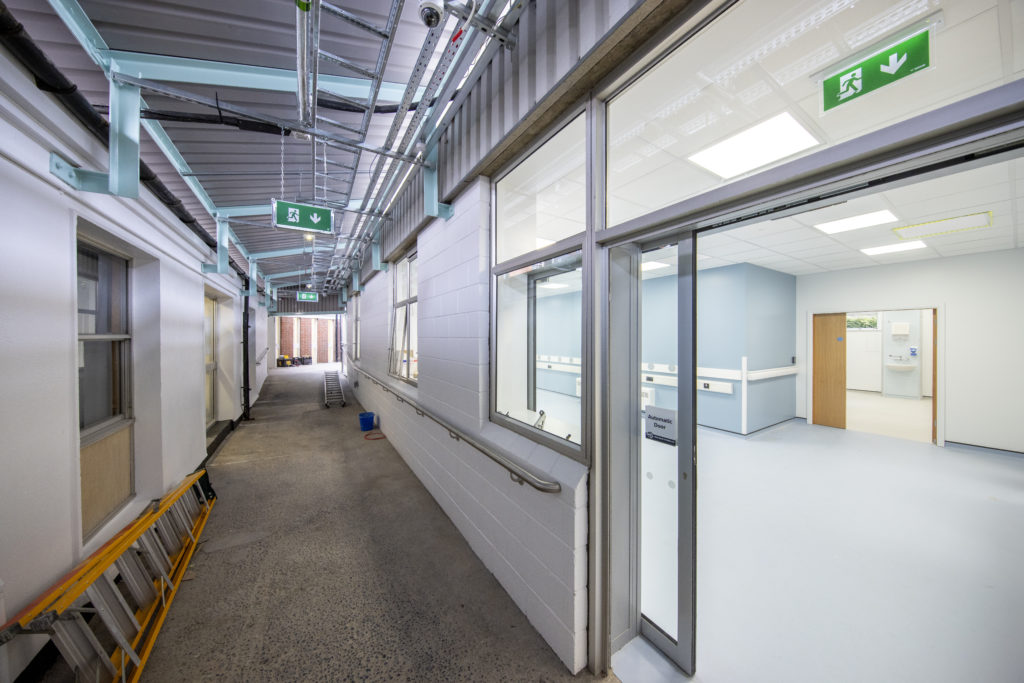 MJ Clarke & Sons Ltd have led a triumphant refurbishment of the Emergency Department and Radiology Unit at Dublin's Royal Victoria Eye and Ear Hospital (RVEEH). Established in 1895, the RVEEH came to be through the amalgamation of the National Eye Hospital (founded in 1814 by Isaac Ryall) and St. Mark's Ophthalmic Hospital for diseases of the Eye and Ear (founded by Sir William Wilde in 1844)
This year's construction project, completed in August by the Dublin-based contractors in conjunction with specialist sub-contractors and suppliers, was successfully delivered to strict programme dates.
RVEEH Acting Chief Operations Officer, Caroline Delahunty, described how the build has had a number of positive impacts. "Firstly, the build is aesthetically pleasing to both staff and patients, it has created a bright, calm modern working environment," she said. "The changed layout of the department has also addressed our privacy issues, which have been repeatedly flagged from external inspections."
She added: "Any development within the RVEEH is ultimately focused on improving patient experience, the addition of lighting, a bench and a planter to the walkway have impacted on patients' first impressions." Challenges faced by the contractors included working through Covid 19, Brexit, overcoming labour issues and a worldwide shortage of materials.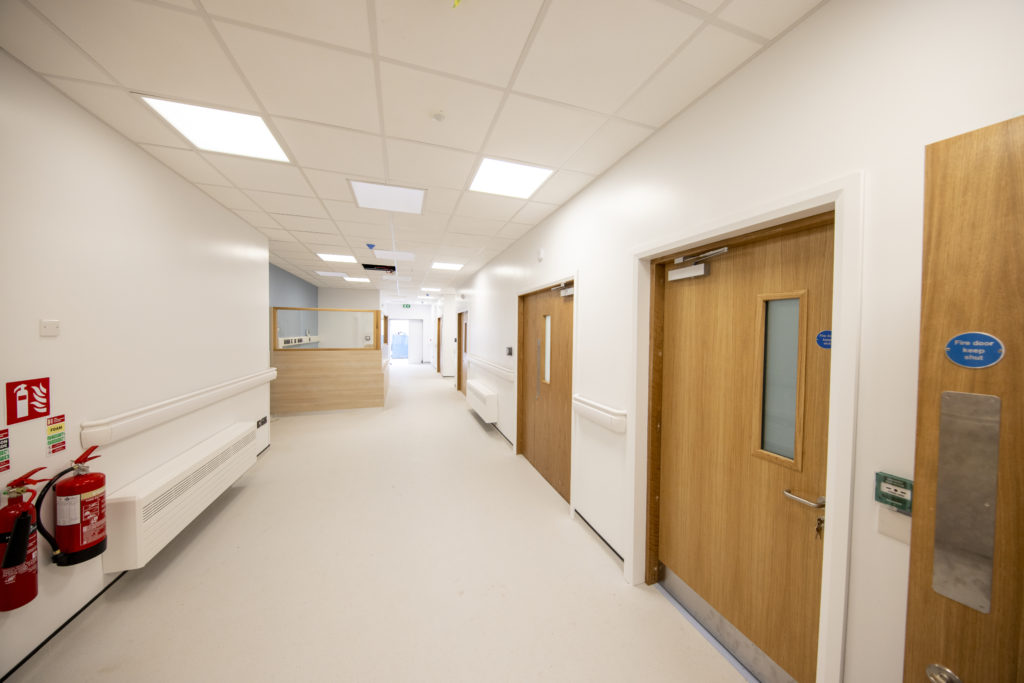 Enabling works, demolitions, floor, wall and ceiling works were all part of the project, the scope of which involved the reconfiguration and refurbishment of the Emergency Department and adjoining Radiology Department at the Royal Victoria Eye & Ear Hospital, which is located on Adelaide Road.
Works consisted of the improvement of the entrance area to these departments, provision of a new reception, as well as a waiting area for both departments. A new triage, secure drugs room, treatment rooms, ENT treatment rooms and Tele-health room were also part of the modernisation. These were supported by a new coffee dock, nurses' station and office area. All mechanical and electrical services were replaced and upgraded, while a new services and communications room was provided. The existing services room was also refurbished and upgraded.
Roof upgrade works consisted of the installation of a new fall arrest system, access ladder and associated roof works to facilitate new mechanical ventilation and heat recovery plant at roof level.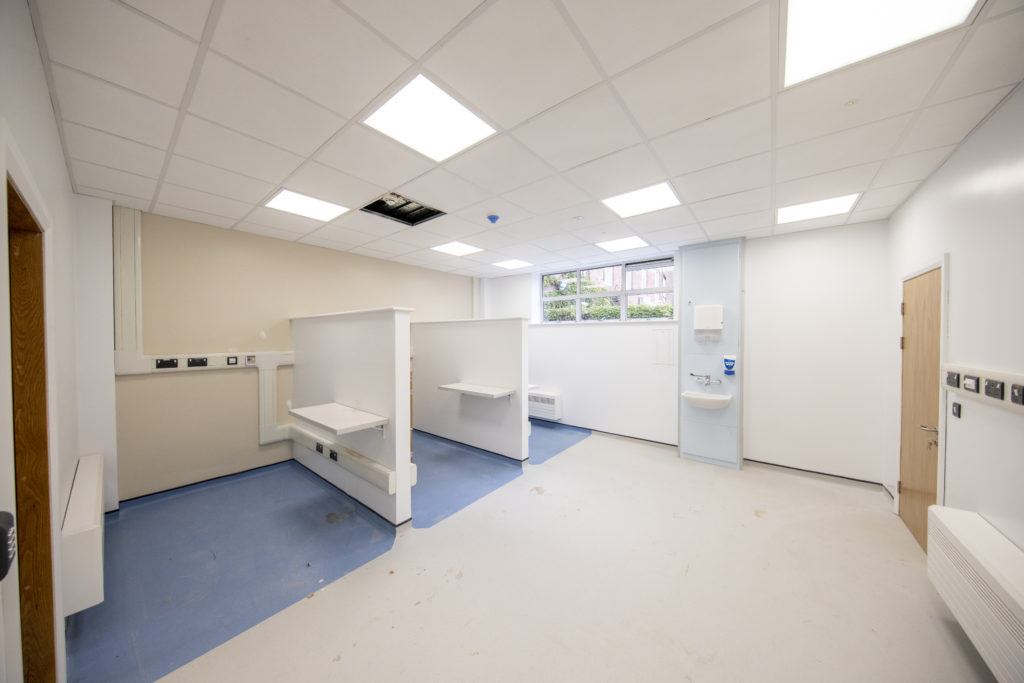 Safety on site: What safety elements implemented during the project had the greatest impact?
"Although we were given the existing A&E section as our separate site, we did however have to work within a shared environment with both hospital staff and members of the public and patients. As we were working within a live hospital environment, we had to be extremely aware of Aspergillus (a bacterial disease that affects persons with poor immune systems). We managed this through induction, monitoring Covid CIF online inductions, sanitising stations and signage erected throughout the site areas.
"Covid-19 was high on the agenda. We had to continually liaise with RVEE management to ensure that we did not encroach on their running of RVEEH. Pedestrian management was critically important whilst we were carrying out external works outside the existing front entrance to A&E. This was also a live exit and entrance from a neighbouring building and they had right of way coming through a shared access route."
Derek Molloy
Safety Consultant on the RVHEE project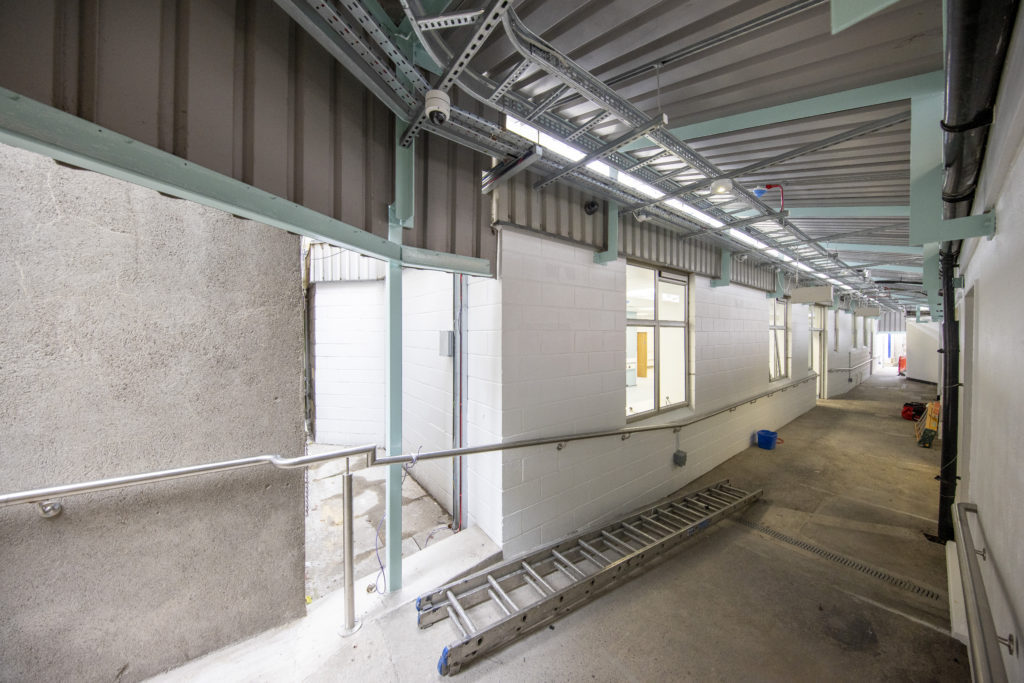 Did you know?

RVEEH was designed by architects Carroll & Batchelor and the symmetrical building features Queen Anne style architecture.

Doctor Kathleen Lynn was the first female doctor to work in the hospital when she was appointed in 1910, she became an activist and politician noted for her involvement in the 1916 Easter Rising.

As the only standalone hospital in Ophthalmology and Otolaryngology in Ireland, RVEEH is a member of the World Association of Eye Hospitals (WAEH).
Design collaboration
"The biggest challenges in delivering the refurbished and upgraded Emergency Department and Radiology Department were working within a compressed programme on a confined, live hospital campus.
The works were carried out in the middle of a confined, live healthcare campus without any interruption to the hospitals day-to-day operations. This required us to work closely with the hospital to provide safe working areas and maintain pedestrian and fire escape routes, with works carried out on a phased basis to always ensure minimum disruption.
To facilitate the works, the hospital needed to temporarily relocate these functions and required the completed facility to be handed over and occupied by a fixed date. This compressed programme and the added pressures of Brexit and the Covid-19 pandemic required close coordination between the design team, contractor and suppliers to identify and address any potential long lead time items to make sure that the project was completed and operational in line with the programme.
David Fitzpatrick
Associate Director, Reddy Architecture + Urbanism